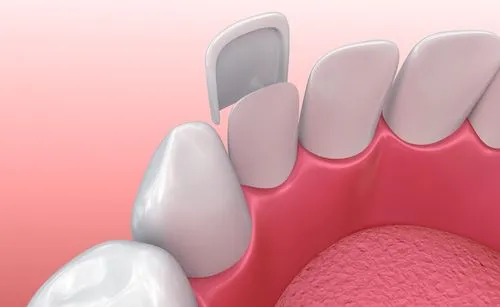 Dental Veneer Services in Arlington, VA
Don't allow stains, gaps, or chipped teeth to prevent you from smiling freely. Here at Bloom Dental of Arlington, we provide the best dental veneer procedures for patients in Arlington, Alexandria, Ballston, Fairfax, Falls Church, Tysons Corner, and the surrounding D.C. Metro Area. Veneers are a great option to help redesign and reshape your entire mouth. Plus, they also help restore the natural beauty of your teeth, giving added confidence back to you and your smile. So, want to improve the look of your smile? Contact our dentist office today to learn more about dental veneer procedures!
What is a Dental Veneer?
A dental veneer is an extremely thin ceramic shell that is placed on the front of an existing tooth structure. When placed on your teeth, custom-made veneers will easily fit and recreate your natural looking smile. Since the dentist has to change the structure of your natural tooth, a dental veneer procedure is considered a permanent procedure.
How Do You Know if Dental Veneers Are Right for You?
Do you have teeth that are cracked, misaligned, or permanently stained? Then a dental veneer procedure at our Arlington, VA, office may be something you should consider. We offer several cosmetic dentistry services that could be of benefit to you. If you feel that your teeth and gums are relatively healthy, and you do not clench or grind your teeth, you're considered a candidate for veneers.
What to Expect During a Dental Veneer Procedure
The process of creating and placing veneers takes approximately two to three appointments. Learn a quick run-down about what to expect during a dental veneer procedure below.
First Appointment
On your first visit, we will discuss the look and shape you are trying to accomplish with veneers. X-rays, other examinations, and even impressions of your teeth may be completed during the first appointment.
Second Appointment
Enamel from your natural tooth's surface will be removed, impressions will be made, and a temporary veneer may even be placed on the tooth. The impressions will be sent to a dental lab for the final product to be fabricated.
Third Appointment
Your custom-made veneer will be adjusted into place until it fits perfectly in your mouth. During the third visit, your tooth will be cleaned, polished, and etched. Then, the veneer is bonded into place ensuring you can enjoy a healthy, new smile for years to come.
Follow-Up Appointment
Depending on your dental veneer procedure, you may be asked to return in a couple of weeks for a follow-up appointment. This is only to make sure your veneer is in place, comfortable, and not irritating your gums.
Contact Our Dental Office Today
If you live in the D.C. Metro Area, Bloom Dental of Arlington is the leading dental care provider in the region. We have treated patients from Arlington, Fairfax, Tyson's Corner, Falls Church, Ballston, Alexandria, and the surrounding areas. Our staff understands that people may feel anxious when going to the dentist. That's why we always provide compassionate and professional dental services when you need it most.
If you are considering dental veneer services or want to learn more about our teeth whitening services in VA, contact us today!